Email marketing can be a great tool to build your online business. Learn how to use email marketing to boost sales without offending potential customers, getting blacklisted, or worst of all, getting into trouble with law. Read on…
Email Marketing Tips
There's a fine line between legitimate email marketing and spam. Here are some of the do's and don'ts of email marketing…
DON'T: Add people to your list without their permission. Even if you have one of those sneaky pre-checked "add me to your list" opt-in boxes, visitors won't remember "opting in" and will consider your marketing messages spam.
DO: Instead, use "confirmed opt-in" which requires the new subscriber to respond to a confirmation email before they are actually added to your list.
DON'T: Purchase lists of email addresses. A lot of spam complaints from people who have never heard of you can ruin your reputation and get your emails (or your entire server) blacklisted.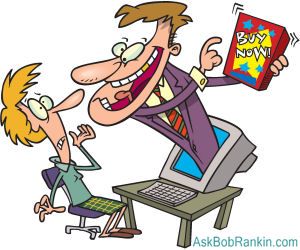 DO: Provide a link to an easy opt-out or unsubscribe form in your email marketing messages. It's required by federal anti-spam law. Test the unsubscribe process occasionally; it's surprising how many don't work and no one ever gets around to fixing the problem.
DO: Ask subscribers to add your newsletter address to their address book or "safe senders list." This helps to ensure that your messages won't be routed to the junk mail folder.
DO: Test your email marketing copy to see if it passes common spam filters. Messages containing certain words or phrases may cause you to be labeled as a spammer. Most mailing list service providers provide a free tool to test marketing messages. You can also use the Lyris Content Checker for Email (http://www.lyris.com/resources/email-marketing/contentchecker/download)
DO: Include your business physical address and telephone number in email marketing messages. Contact information reassures recipients that you have nothing to hide. It's also required by law in the U.S.
DON'T: Include attachments or use scripting such as Javascript, in email marketing messages. Many spam filters will block such messages.
DO: Remove invalid email addresses from your mailing list as soon as your become aware of them. A large number of bounced messages can get you blacklisted.
DO: Clean duplicate email addresses from your lists so that subscribers don't receive more than one copy of any message.
DO: Remove inactive subscribers who never open or respond to your offers, preferably twice a year. A good email service provider will provide analytics to help you identify the deadwood.
DO: Offer subscribers their choice between HTML or plain text versions of your messages.
DON'T: Include a lot of different offers in one message (the shotgun approach).
DO: Provide useful content in your email newsletters. If you want to retain subscribers, you need to give them something besides your sales pitch.
DO: Include your company name in the "From" address of your messages so that subscribers will recognize you.
DO: Use your own domain name in email messages, not an "on behalf of" domain that promotes your email service provider instead of your own brand.
Aweber is an email service provider that I use and highly recommend. They offer a full slate of features to help you send email newsletters, and manage your subscribers. You can create stylish messages by using one of their 100+ templates, send automated follow-ups, or turn your blog into an email newsletter. Aweber is also known for very high deliverability rates. Other popular providers of email marketing services include Constant Contact, MailChimp and iContact.
Do you have any email marketing tips to share? Post your comment or question below…