Here's Your Free Business Fax Number
| | |
| --- | --- |
| A reader asks: 'Every once in a while, I need to receive a fax, but I don't have my own fax machine. It's embarassing to tell business contacts that my fax number is the local Kinko's, and it's a hassle to drive there and retrieve my fax. Is there any way to get a free fax number for inbound faxes?' | |
How to Get a Free Fax Number
Just in case you haven't considered it, you CAN use your home or office phone number to receive incoming faxes at no cost, even if you don't have a fax machine. Most computers come with a fax modem, and the software necessary to send and receive faxes. But it is a nuisance to share a voice line with incoming faxes.
If you're not careful to keep the fax software turned on only when needed, callers will be greeted with all that shrill beeping and squawking instead of your voice, or your company's voicemail greeting. That said, let's move on to internet-based fax services.
Several years ago, numerous firms offered free incoming fax services. Today, with Internet-based communications in high demand, totally free fax numbers are hard to find and they come with limitations. But if you need a fax number only for occasional use, you can still get a truly free inbound fax number.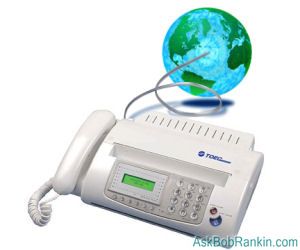 The way free fax numbers work is this: The fax service provider, as part of their normal course of business, has fax servers set up all over the country (or world) with numerous phone numbers assigned to all the lines that come into the fax servers. You are assigned one of these numbers to use as your inbound fax number.
A fax sent to your number is stored digitally as a TIFF file. In a standard fax machine, the TIFF file would be printed out. But the file can just as easily be emailed to you, and then you can view it on your computer monitor, forward it, and generally treat it like any other email attachment. And if necessary, you can print it on your printer.
To the sender, it appears that he or she is faxing to a standard fax machine attached to a phone line in your home or office. That's the beauty of a free inbound fax number. You don't incur the cost of a second phone line, or a fax machine and all the supplies it requires. And if you want the whole world to think you have a fax machine sitting on your desk, your secret is safe with me.
Get Your Free Inbound Fax Number Here!
eFax Free is a semi-secret free inbound fax number service offered by J2 Communications. The totally free service is buried deep in the eFax website, and if you're not careful, you might miss the offer. When you click on the link above, there is a form to fill out at the bottom of the page for the eFax FREE service.
NOTE: On that same page, there are several links and references for the eFax PLUS service, which is not free. Ignore all that, GO TO THE BOTTOM OF THE PAGE, fill out the form and you'll get the eFax FREE service, and your free fax number for incoming faxes.
Read the terms of service carefully so you understand what you can and cannot do with the eFax Free service, and what eFax does and doesn't offer with this service. You can't choose your area code or phone number. You faxes may be delayed in delivery depending on how busy eFax's servers are with paying customers' faxes. There are also limits on the number of pages per fax and total number of faxes you can receive per month. If you receive more than 20 fax pages in a 30-day period, J2 will offer to upgrade you to a paid subscription service. If you choose not to upgrade, your account may be terminated or suspended. If you want more, including the ability to send faxes, you will have to pay for the eFax Plus or Pro service.
Note that you cannot SEND a fax using your free fax number, because it's for INBOUND faxing only. But there are some totally free online faxing services that allow you to send a fax. Check out my companion article Send a Free Fax for a list of those.
There are a few other Internet fax service providers, such as K7 and FaxBetter, which also offer free inboundf fax numbers. My personal favorite is Faxaway, which isn't free, but it only costs $10/year. They each have their pros and cons, which you can read about in my related article Get a Free Inbound Fax Number.
Do you have something to say about free inbound fax numbers? Post your comment or question below...
How Else Can I Help You?

(Enter your question in the box above.)




---

Check out other articles in this category:
Posted by Bob Rankin on 22 May 2014
---
Need Tech Help? Ask Bob Rankin about computers, gadgets, or the Internet.
---
Link to this article from your site or blog. Just copy and paste from this box:
---
Post your Comments, Questions or Suggestions
---
---
Article information: AskBobRankin -- Here's Your Free Business Fax Number (Posted: 22 May 2014)
Source: http://rankinfile.com/heres_your_free_business_fax_number.html
Copyright © 2005 - Bob Rankin - All Rights Reserved