How often do you use your printer? If it's more than just occasionally, I've got some tips to simplify your life and save you money. Aside from wasting paper, killing trees unnecessarily, and spending more than $300 a gallon on printer ink, you're also creating a stack of pages that you'll have to do something with. Here are some ways to minimize those hard copies, as well as the associated filing, and tedious searching tasks…
Put Down that Cartridge and Back Away Slowly From the Printer
Printing is a habit, and it can be a costly one. We print documents, emails, bills, receipts, photos and other types of files. All of these things come to us in digital form, so the trick is to realize that converting them to paper just makes it harder to manage and find them later.
Many things are printed for record-keeping purposes. But the best record-keeper available may be your email server. Instead of printing a Word document or PDF, email a copy to yourself, and Gmail (or whatever email service you use) will keep it safe forever. You can also find it again with simple search, or tag it with keywords so that you can easily find all documents that relate to a given topic. If you use webmail, you have the added benefit that your important documents are stored online, and won't be lost if your hard drive fails.
Bills, receipts, monthly statements, correspondence, jokes and pictures of cute puppies will flow into your inbox. Let them stay there! Printing these things is old-school thinking, and ultimately makes it harder to find the information at a later date.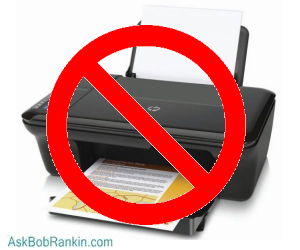 When you generate a document, rather than mailing it, ask the recipient if it would be okay to "print" it to a PDF file and email it, instead of sending it to a paper-guzzling printer. Most people will actually prefer this, because it eliminates the delay of mailing. Microsoft Word supports this trick; choose Save As and then look for the PDF or XPS option on the options menu. "XPS" is a Microsoft format built into Windows. It's inferior to PDF but there in case you need it. Any application that can print can instead save to a PDF file, using one of several free or trialware PDF printer utilities. I have used CutePDF Writer and several others. Of course, Adobe Acrobat will convert almost any file format to PDF.
Instead of printing something in order to fax it, try a free Internet fax service. All of them accept either email attachments or uploads of Word, JPG, and other popular file formats and then fax them for you. Of course, you can't control whether the recipient prints that incoming fax or not, but there are also fax-to-email services that funnel your incoming faxes to your email inbox. See Free Inbound Faxing for details on that.
Don't print photos unless you are making a special gift photo album for Grandma. Just upload your digital images to Photobucket or a similar cloud service, and send your friends the private link to that album. A growing number of newlyweds are going that route. See Free Online Photo Storage and Sharing (http://askbobrankin.com/free_online_photo_storage_and_sharing.html) for lots of options.
Software and Online Services That Can Help
What if you receive a document that you have to sign and return? For that, there are services like Vletter which will scan your handwritten signature and convert it into a Windows font that you can insert anywhere, at any size required. No more printing, signing, scanning, and emailing or faxing. You can create your own graphic image of your scanned signature and insert it into documents, too. Other online services such as Docusign handle the digital signature process with a completely web-based process.
It's getting ever easier to save paper. The Chrome browser has print-to-PDF capability built into it; you can even select one page or a range of pages in a multi-page Web page after previewing it. (Use File+Print, then press the Change button to see this option.) Firefox can do likewise with a free add-on called "Print Pages to PDF." The PDF printer emulators mentioned above work with any browser.
Chrome also has a "Save to Drive" feature (accessible via the Print dialog) that saves the file currently displayed on your browser in your Google Drive cloud storage space. Internet Explorer prints to OneNote in the cloud-based version of Office. Firefox has add-ons such as Cloud Printer for Mobile and others for desktop PCs. The Evernote app works on just about any platform (Windows, Mac, iOS, Android) and is a convenient way to keep (and later search for) documents without having to print, file and shuffle.
If you've got already printed pages that you'd like to store in digital format, use a scanner with OCR (optical character recognition) capability to create a searchable PDF. See Digital Scanners to the Rescue for information on scanners and OCR software that can do this.
Saving trees, time and money are three good reasons to lessen your dependence on a printer. Do you have other non-printing tips? Post your comment or question below…