I have a great idea for a website, but I'm not sure how it all works. I'm a quick learner with a limited budget, so I'd rather do it myself than hire a programmer. Can you recommend some good (free) webmaster training courses?
Free Online Webmaster Training
Whether you're an experienced Webmaster looking to broaden your skill set or a total newbie who doesn't know what "HTML" stands for, there are online Webmaster training resources for you. So many, in fact, that it can be very confusing to choose one. Here are some of the best online Webmaster training sites for beginners and professionals.
HTML is the language of the web, so it's the best place to start. For novices, HTML: An Interactive Tutorial is a great introduction to Hypertext Markup Language programming. Created by network engineer Dave Kristula, it starts with the basic question, "What is HTML?" and builds from there. Short, clearly written chapters explain how HTML code works; what HTML tags are; how the common tags are used; how to insert and format images in Web pages; numbered and unnumbered lists; manipulating fonts and text colors; and finally, publishing your pages to the Web. It's all free, and Dave also offers Web hosting starting at $4.95 per month.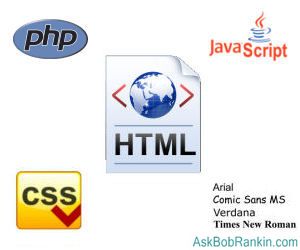 W3Schools.com claims to be "the world's largest Web development site" for beginners and experts. It certainly has a lot of tutorials on subjects basic and advanced: HTML, HTML5 (the latest generation standard), CSS (Cascading Style Sheets), and many more advanced topics. A unique feature is the "Try It Yourself" editor which lets you create code in one frame and view its results immediately in another within your browser. The courses are all free, but the school offers certifications and books for various fees.
The Complete CSS Tutorial is dedicated to Cascading Style Sheets. CSS is an essential tool for all but the simplest Web pages. Using only HTML, you have to define colors, text fonts, and other style elements multiple times throughout a Web page. To change styles, you have to find and change multiple definitions. But with CSS, you define a style once, name it, and then refer to the style name where necessary. Thus, you can change the style in one place and the change will take effect wherever the style is referenced.
Scripting Languages
Javascript is another important tool for webmasters. You can use this light-weight programming language to add interactive elements to web pages, such as validating forms, inserting text dynamically on a page, or reacting to events such as a mouse click. I recommend the W3Schools Javascript tutorials for beginners.
PHP is one of the most useful server-side scripting languages ever invented, a must for professional Webmasters. The PHP Programming Tutorial is one of many free online Webmaster lessons that can help you master this powerful tool. It's geared for beginners to PHP and HTML.
I've found that in many cases, it's a good idea NOT to start from scratch when you need any kind of script, be a client-side Javascript gadget, or a server-side PHP doodad. You can find lots of free working examples at these sites:
EchoEcho.com has a vast library of tutorials on everything from basic HTML programming to Flash, Java, applets, PERL scripts, ASP, ColdFusion, and other tools fo the Webmaster's trade. That includes graphics design programs such as Corel Draw, Fireworks, Adobe Illustrator, and Photoshop.
Most community colleges and universities offer Web programming certification or degree programs. So do many adult education for-profit schools such as DeVry Institute, ITT Tech, and the University of Phoenix. But unless you need a sheepskin to apply for a job, you can save a lot of tuition money with these and other free online Webmaster lessons.
Do you have something to say about learning the tools of the webmaster trade? Post your comment or question below…