A recent study found that unwanted phone calls are not just annoying, but costly as well. It costs small businesses in the USA $500 million a year to handle instrusive telemarketing and so-called 'spam calls'. Here are some tips and tools to fight back…
Don't Call Me, I'll Call You (Maybe)
Business that rely on inbound or outbound telephone calls for sales are finding that more of their time (and profits) are being wasted by unwanted callers who have something of their own to sell. Those pesky telemarketers — the equivalent of spammers in the voice communications world — are still abundant despite the enactment of the National "Do Not Call List" in 2004 and similar state laws passed in its wake.
Why is that, and what can you do to stop these and other unwanted phone calls?
There are several reasons why you may still get unsolicited phone calls, even if you've added your numbers to the Do Not Call list. We'll take a look at those, and then I'll offer some tips on how to eliminate or at least reduce those annoying calls from telemarketers, charities and people you just don't want to deal with.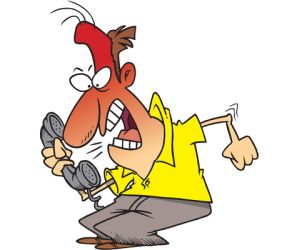 Unfortunately, business phone numbers are fair game for telemarketers; businesses hold themselves out to the public and are expected to take the bad with the good. "Do Not Call" laws are for personal/residential phone numbers only. If you run a business, dealing with incoming sales calls is just one of the many costs of doing business. The good news is, there are tools and techniques to filter out many of those unwanted callers. Let's take a look at some of those options.
Blocking Calls With Settings, Services and Apps
All US-based landlines can block callers who block transmission of their caller-ID data; so-called "private callers." If you have contacts who do this, they will not be able to call you; but that may not be a bad thing. This feature, called Anonymous Call Rejection, is activated by dialing *77, and can be turned off by dialing *87.
Wireless carriers long resisted blocking unwanted callers for their customers because they were charging by the minute; an unwanted call to you was revenue to your carrier. But that has changed since unlimited-talk became the standard of the industry. I don't know of any wireless phone or carrier that lets you block all anonymous callers, but there are ways to block specific numbers.
Verizon Wireless' free blocking service, called Call and Message Blocking, allows you to block up to 5 numbers, but you must renew blocks every 90 days. Another Verizon feature, Usage Controls, allows you to block up to 20 numbers with no expiration, but costs $5/month. Both have the limitation that you can only block specific numbers, and don't enable blocking of all anonymous calls. Both require you to login to the Verizon website and enter the numbers to block. Check with your carrier to see if they have something similar.
On Android smartphones you can block future calls from any specific phone number, if it's first added to your contacts list. The little known trick is to edit the caller's contact, press the options button, then tap "Add to Reject list". If you own an iPhone, this no-brainer feature won't be available unless you are running iOS v7. iPhone users who can't upgrade to iOS7 can pay $1.29 for a "silent ringtone" at iTunes and assign it to phone numbers of unwanted callers.
Android users get a little more help from developers. PrivacyStar is an app for Android that lets you block whole Area Codes as well as specific number, private callers, and unknown numbers. It also blocks text messages. This saves you the trouble of adding numbers to your contact list that you never want to call. Its reverse-lookup feature can reveal who is calling even if caller-ID data is not forthcoming. A free, limited version is available; the full feature set costs $2.99 per month.
A technique I use often is to quickly Google the number while the phone is ringing. Quite often, I can identify the name of the business or telemarketer that is calling. Armed with that info, I can choose not to answer, or hit the "Receive Fax" button on my all-in-one printer/scanner/fax. In some cases, the callers are using sophisticated calling software that detects fax numbers, and will remove you from the list. If it's a human caller, they get blasted with a fax tone, which hopefully has the same effect. At the very least, it's satisfying.
Google Voice blocks many spam callers automatically, and lets you add numbers to your own block list. I recently forwarded my landline to a free Google Voice number, and found that I get far fewer disruptive phone calls from people hawking timeshares, alternative energy plans, credit card offers and free Caribbean cruises.
Marchex, the company that did the study on how spam callers impact businesses, offer a service called Clean Call Technology that promises to block up to 90 percent of telemarketer and other unwanted calls.
These tools can help to reduce the annoyance of unwanted callers, be they telemarketers, charities or creepy stalkers. Do you have any other tips to share about blocking nuisance callers? Post your comment or question below…