Have you dreamed of having your own business website? Are you planning to register a dot-COM domain name, but you're not sure where to start? Here are some helpful tips on how to pick a great name, register the domain, and get your new website up and running. I've demystified the process, so everyone can play! Read on…
How to Register a Domain For Your New Website
Here's the scoop… a domain registrar is an organization that sells domain name registrations to the public. Simply put, a domain name is a website address. If you want to get your own "dot-com" address and set up a website for your business, you must first register the domain name.
In the early days of the Internet, Network Solutions had a monopoly on domain name registration. If you wanted a domain in one of the three most popular top-level domains (.COM, .NET or .ORG), you had to pay NSI. Naturally, this situation led to unjustifiably high prices (NSI charged $100 per year per domain at one point) and widespread complaints of poor customer service.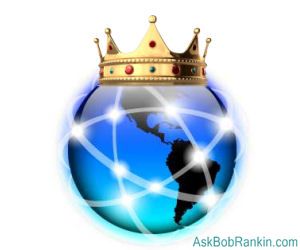 In 1999, the domain name system was changed to allow independent registrars. Today, there are several hundred registrars accredited by ICANN and the various governments that run the country-code TLDs. The competition has driven domain registration fees down to less than $15 annually, and in some cases less.
Finding a registrar is not difficult. Search for "domain registration" in any search engine and you will get a large selection of registrars. Once you get to a registrar's home page, the process is pretty standard. GoDaddy is currently the top registrar, with about 33% of the market. Other popular registrars include Enom, Register.com and Moniker. Some of my smart friends recommend SimpleURL and Name.com because of their good pricing and customer service.
Let's deal with the question about the difference between a domain registrar and a hosting company. For practical purposes, it really doesn't matter any more. Almost all registrars offer website hosting in addition to registering your domain. But how are they different? The registrar gives you the legal right to use a domain name, kind of like a trademark. But without a hosting service, your domain is pretty much useless. You need to rent space on a web hosting server, where your files, images, scripts and other website components will be uploaded for others to access.
Now let's clear up any confusion over monthly versus yearly fees. The fee to register a domain name is annual; you'll pay that once a year as long as you own the name. Website hosting is typically a monthly deal, with prices ranging from $5/month and upward, depending on the level and quality of service. My article on Small Business Website Hosting will give you some helpful tips on choosing a hosting service. Oh, and there's no requirement to actually host a website. If you purchase a domain and you're not ready to build a website, there's no neeed to sign up for a hosting plan right away.
Registering Your Domain
So let's get back to the registrar, and the domain registration process. Here's how it generally works. First, you enter the domain name that you desire into a search box. If the name is available, you're in great luck; many "good" names are taken. If the name you want is not available, a good registrar will suggest alternate names and even show you other top-level domains in which the name of your choice is available. For example, if your .COM is not available, consider a variant in the .NET, BIZ, or .INFO top-levels. Those are the most popular and recognizable top-level domains, but there are dozens to choose from.
For example, let's say your business has to do with a rare breed of purple poodles. You might not be able to get PurplePoodles.COM, but Purple-Poodles.COM or PurplePoodles.NET could be available. Sometimes you'll strike a match with variations that combine 2 or 3 words, hyphens, or by tacking on various suffixes and prefixes. My related article How to Get a Great Domain Name has some links to online tools that can speed up the process, and gives some ideas on how to obtain a domain name that's already in use. Sooner or later, you will find an available domain name. Then it's time to register it as your own.
You will need to provide a name, mailing address, phone number, and email address for three contacts: the registrant (owner), the administrative/billing contact, and the technical contact. It's OK if all three contacts are the same. This contact information is meant to be public, so people who wish to contact a website owner can do so.
Next, you have the option of purchasing "privacy protection" (it goes by different names on different registrars). This service substitutes a third party's contact information for yours in the Whois database, so that any messages sent to the contacts are screened before they reach you. You probably will want privacy protection! Without it, any spammer can get your contact info, or any psycho who doesn't like your website can come stalking you. Naturally, most registrars charge an extra fee for privacy protection.
The names or IP addresses of two DNS servers are also optional in a domain registration. You would normally get the DNS records from the hosting service that will host your domain. If you don't have a hosting service yet, most registrars will "park" your domain using their own DNS servers.
Last but not least, you will pay the registrar's fee. As mentioned earlier, annual registration fees vary widely but are generally less than $15 per domain. Discounts are often available for multi-year and multi-domain registrations.
Once the forms are filled out and the fees paid, you may have to wait a few hours to a few days until the registration information is propagated to Internet servers around the world. Once that is complete, any Internet user will be able to find your site by entering the domain name in a web browser.
I'll Have the Plain Vanilla, Please…
There is not much difference between registrars on the front end, when you are registering a domain. As I mentioned earlier, many registrars also sell hosting services, so their domain registration procedures may be cluttered up with attempts to upsell you. These optional services include the purchase of related domain names, domain certification, expiration protection, SSL certificates, email hosting, and search engine optimization. I recommend that you say "no thanks" to all of these, with the possible exception of privacy protection.
The differences between registrars are mainly in customer service, ease of domain management, and domain transfers. The latter refers to getting out of your relationship with one registrar and moving to another. Be sure to read all terms of service, and check out the buzz with a few online searches before signing up with a registrar.
Once you've secured a domain name and settled on a web hosting service, you'r ready to start building your site. See my companion articles in the Webmaster category here for some tips on what to do next, and some free resources to help you put it all together.
Do you have a domain registrar that you would strongly recommend, or one to avoid? Post your comment or question below…