There are hundreds of small business web hosting services from which to choose. How can you find the right one for your small business? Here are some important factors to consider…
Small Business Web Hosting: What To Look For
Once you've chosen and secured your small business's domain name (often called a dot-com name), you're ready to select a web hosting company. Your web hosting account is where you'll upload your website's files, photos and any scripts to process orders.
Reliability is critical in a hosting service, no matter what size your company may be. Even if you don't sell products through your Web site, downtime costs you money. A potential customer may assume you are out of business if he or she cannot connect to your site. So it is important to review a hosting service's availability guarantee; check out its reputation online; and choose the best type of hosting plan for your business.
Two types of hosting plans are available. Shared hosting means that your Web site shares a physical server with other sites; or sometimes thousands of other sites. Sharing a server helps to keep costs low. But shared hosting can be a problem if any of your co-tenants on a server have problems that require taking the server offline for a while. A sudden spike in one tenant's traffic can mean difficulty connecting to others. Dedicated hosting costs more but gives your site a server all to itself.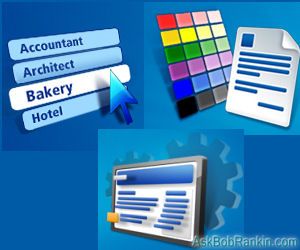 If you plan an ecommerce Web site, be sure to investigate all of the features of whatever ecommerce platform a hosting service offers. There are many different online catalogs, shopping cart platforms, and payment processing systems. Many hosting services offer promotional extras to attract new customers. Promotional items can include credits for Google Adwords advertising; search engine optimization services; and other goodies that can help get more exposure for your site.
And unless you're hosting a website as a hobby, stay away from "free hosting" offers. These services are almost always overloaded, slow and unreliable. Some even place advertising for other companies on your site. You won't be giving your customers a good first impression of your business by doing it on the cheap.
Many hosting services offer "unlimited" storage space, bandwidth, monthly data transfer, and other resources. But all resources are limited, in reality. Ask what happens if your site experiences exceptionally high traffic or grows significantly.
Think all of the good "dot-com" names are already taken? Think again.
Follow these tips
, and use some clever online tools to snag a great domain name for your small business website.
Website Design and Admin Tools
Web site design tools for small businesses should be free and easy to use. The tools should include a large variety of templates from which to choose a theme that you can customize. If you plan to write your own HTML, it's important that you be able to upload and test new pages easily. Having a control panel from which you can access all of your Web, email, domain management, and other tools is an important consideration. Two of the most popular control panels are Plesk and cPanel.
Wix and Homestead (formerly Intuit Websites) are do-it-yourself services aimed at small businesses that want to create a website from scratch. You start by choosing a professionally designed template, from a library containing of hundreds of designs. Customize it with your own text, logo, images and a domain name. Then click a button to publish your website on the Internet.
Wix offers a totally free introductory website package, but you can't use your custom domain name, add shopping cart, and there will be third-party ads on your site. If you're serious about making an impression or selling online, you'll need to upgrade to a package that costs between $11 to $30 per month. Homestead offers a free 30-day trial, and costs $20/month if you decide to continue.
Another popular option is 1&1 My Website. You start by selecting a business category. Next, enter your business's contact information and select your desired layout and color scheme. Add your own photos, text, and your company logo, and you're good to go. No knowledge of programming, HTML or other technical stuff is required. Plans start at $10/month.
If you've already got a website, and are looking for a new hosting service, check out Liquid Web, WestHost or GoDaddy. I've used all three, and found them to be reliable and very good with issues requiring support.
Tech support is probably the most controversial issue among hosting service customers. Support should be available 24/7 via phone, email, and online chat. If possible, test a hosting service's support before you get locked into a long-term contract.
Approach a hosting service as you might approach a potential spouse. Ask lots of questions during the dating period. Get a trial period, like an engagement, during which you can test the hosting service's performance hands-on. Don't get hitched for the long term until you are completely satisfied.
Which hosting service do you recommend, or warn against? Post your comment or question below…