There's nothing as delightful to the ears of a merchant as the Ka-CHING! of a cash register. And offering multiple online payment methods to your customers is one way to increase the odds they'll shop with you instead of a competitor. Here are several options you should consider for your online storefront…
Beyond Credit Cards – Other Online Payment Options
If you sell online, you won't hear that lovely Ka-CHING sound. But you can find the same delight in an email whose subject line informs you, "You've got cash!" That's Paypal's famous notification, one of many ways to accept payments online. Others may not be so familiar.
I wrote about getting started with credit card merchant accounts (the most popular payment option) in my article Accepting Credit Cards Online. But not everyone feels comfortable using their credit or debit card on the Web. Which online payment options should you offer to customers? How many options is too many? What do they cost? Here is the low-down on several online payment options.
Banks provide credit/debit card merchant accounts, and partner with card payment processors to handle transactions on a day to day basis. Online, customers enter their card details in a routine with which they are familiar and comfortable. But they're increasingly uncomfortable with putting those card details in the hands of many different merchants. Recent news about high-profile data breaches only stoke those fears for many consumers.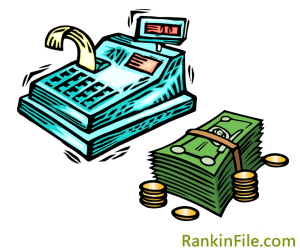 One of Paypal's biggest selling points to consumers has always been, "Your credit card data is never revealed to merchants." Only Paypal knows the card number and other details, and it guards that data zealously. Paypal has never had its customers' data stolen by hackers (as far as we know). With nearly 200 million account holders worldwide, Paypal is about as familiar to consumers as Visa or Mastercard. So yes, you do want to offer Paypal to capture the significant portion of the market that doesn't trust you with its card data.
But there's also a significant number of online shoppers that won't touch Paypal with a ten gigabyte data buffer. I've used Paypal as a consumer and a merchant for over a decade, with nary a hitch or a glitch. But any company dealing with millions of customers and billions of transactions is bound to make mistakes and have some unhappy customers. So give your customers options!
Squaring Up…
Square Cash is a relatively new way to send and receive money that's even easier than Paypal, and it doesn't cost a dime – for now. Just register a debit (not credit) card issued by a U. S. bank with Square Cash and you are all set to request and accept money via email. The core process is simple:
The payer addresses an email to the payee. A carbon copy of the email is addressed to cash@square.com. The subject line is in the format of "$XX.xx". That's all that's required. The body of the email can contain anything or nothing.
To request money from someone, just address an email to your customer and change the carbon copy address to request@square.com. The body of the email might explain why you are asking for $X, e. g., "One 18kt gold men's ring, item # 2468042…"
It's dead simple to encode Square Cash money requests into Web pages so that a customer need only click a link to request such an invoice. The mailto URL in the HTML programming language can fill in all the fields and send the email automatically. There are also mobile apps and Webmaster tools to help automate the process.
Square Cash is an aspiring "Paypal killer" developed by Square, Inc., of San Francisco, one of the largest merchant services providers. Square also provides traditional card payment processing services, mobile payment solutions, and so on. The company has been invisibly handling electronic payments for many years; now the name "Square" is showing up in consumers' card statements regularly. It's gaining acceptance and trust.
More Payment Options
Amazon Payments connect your business to the many, many consumers who have Amazon.com accounts. It costs a bit less than Paypal; the per-transaction fee is $0.30 instead of Paypal's $0.35, and the sliding-scale percentage rates are a little lower. But many merchants find the most value in the Amazon fraud protection system; when Amazon approves an order, it is less likely to result in a "fraudulent transaction" chargeback. The Amazon shopping cart and order fulfillment system is also available to third-party merchants.
Dwolla eliminates the plastic cards by connecting directly to your bank account, and
allows people to send money to email addresses, phone numbers, and businesses that accept Dwolla. There's a flat fee of just $0.25 per transaction, and it's free for transactions $10 or less. Merchants can add a "Pay with Dwolla" button to their store.
Online marketplaces such as Etsy offer payment services as part of their e-commerce platforms. They may accept traditional card payments, Paypal, or ACH bank account transfers.
Accepting paper checks is easier now that many banks offer mobile apps that let you snap a photo of both sides of a check and upload it to your bank. The images are treated just like paper checks; the money may be available immediately or there could be a hold period on part or all of it. Hold onto the paper for 30 days in case there's a problem, then feel free to shred it.
Think Twice Before Doing This…
Some payment options should be avoided, not only because they are prone to fraud but because they are associated with unsavory online activity. Wire transfers leave consumers with no remedy in case of fraud, and are favored by Nigerian spammers and other cybercrooks. Simply offering "wire transfer" as an option sullies a business' reputation. Yes, there are some niche industries in which wire transfers are perfectly normal and respectable; you are probably not in one of them.
Bitcoin is even shadier than wire transfer, being a form of "virtual currency" backed by no government and offering absolutely no protection against fraud. And yet, no less a luminary than Internet oracle Mary Meeker remains optimistic about Bitcoin, noting in her annual trends report that there are over five million Bitcoin users and their number keeps growing. As a merchant, if a customer insists on remaining anonymous and using an untraceable currency, that makes me nervous. But if you sell tin-foil hats or black-market goods, you may want to offer Bitcoin as a payment option.
What payment options do you offer your customers? Your thoughts on this topic are welcome. Post your comment or question below…